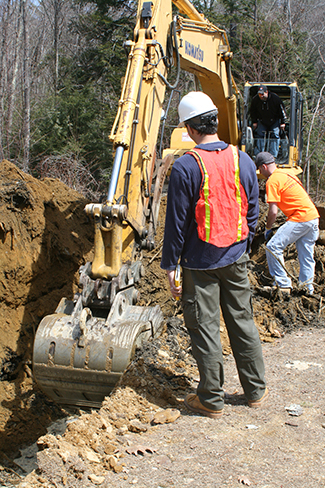 Test pit being dug in front of the Wah-Tut-Ca Service Center
Environmental Investigation at Wah-Tut-Ca Scout Reservation
Update - May 30, 2014
Wah-Tut-Ca Scout Reservation Environmental Study Completed - Camp Declared Safe
Yankee Clipper Council is pleased to announce the investigation of reported demolition material dumping at Wah-Tut-Ca Scout Reservation has been completed and no evidence of dumping or contamination from the alleged dumping has been found. The camp has been declared safe and the Council looks forward to a successful summer camp season.
In response to the report in October 2013 that demolition debris had been dumped at Wah-Tut-Ca Scout Reservation, the Council took immediate and appropriate action to insure that the camp was safe for Scouts, Scouters and the community. A law firm and an environmental engineering firm were promptly engaged to be certain a thorough and complete investigation was conducted and any prudent remediation would be correctly carried out.
Under the direction and control of the engineering environmental firm, a thorough investigation was conducted. The investigation included research, digging test pits and conducting soil and water tests. The research included reviewing relevant records that could be found and interviews of individuals with knowledge of the history of the camp. After the research was completed, a series of test pits was dug in the area where the demolition debris was allegedly deposited. Water and soil samples were collected from these pits and sent for chemical analysis.
During the excavation of the pits, no evidence of demolition debris was found. Only typical camp debris and materials from a microburst in 2006 were found. The testing of the soil and water samples disclosed no contamination requiring remediation. After reviewing the findings, the council's New Hampshire lawyer advised that there is no reasonable basis for any further investigation of the alleged dumping nor any required remediation.
In order to ensure that the camp is safe and to properly conduct this investigation, the Council expended $13,077 for paid professionals and committed substantial hours of its paid staff and volunteers.
In compliance with the protocols and procedures governing an investigation of this nature, on March 20, the Council's executive board voted to temporarily suspend two individuals from participation on the Council's Camping Committee and from visiting Wah-Tut-Ca Scout Reservation until the investigation of the reported materials dumping at the reservation and any required remediation were concluded. This action was required to eliminate any potential conflict based on their prior knowledge of, or possession of information on the alleged dumping without timely notification in their leadership roles on the Executive Board, Member at Large and Council Camping Committee. Since the investigation has been completed and it has been determined that no remediation is necessary, the Council Executive Board on Thursday, May 29, 2014, voted to reinstate the two individuals' access to Wah-Tut-Ca Scout Reservation, in accordance with the Council's camp visitation policy; and that they may request membership in council level committees. At no time were their memberships in Scouting suspended, nor their position on the Council's Executive Board or their Member at Large position ever suspended.
"This has been a challenging time," Council President Michael Jewell said. "We are grateful for everyone's patience, cooperation and support throughout this process during which the Council did what it had to do in good stewardship. This experience gave the Council the opportunity to allay rumors and obtain a clear and accurate determination of the situation."
"Plans for the 2014 Wah-Tut-Ca summer camp program are in place and are well underway," said Tom Swift, VP of Outdoor Adventure and 2014 Wah-Tut-Ca Camp Director. "We can move forward together with confidence and look forward to Staff Week and the Boy Scouts enjoying the outdoor adventures of summer camp that make Wah-Tut-Ca such a significant part of the Scouting opportunities offered in Yankee Clipper Council."
For more information about the Boy Scout camping programs at Wah-Tut-Ca Scout Reservation and the Cub Scout camp programs at Lone Tree Scout Reservation, in Chelmsford and in Topsfield, visit www.yccbsa.org or call the Council office at 978-372-0591.